President's Vision Statement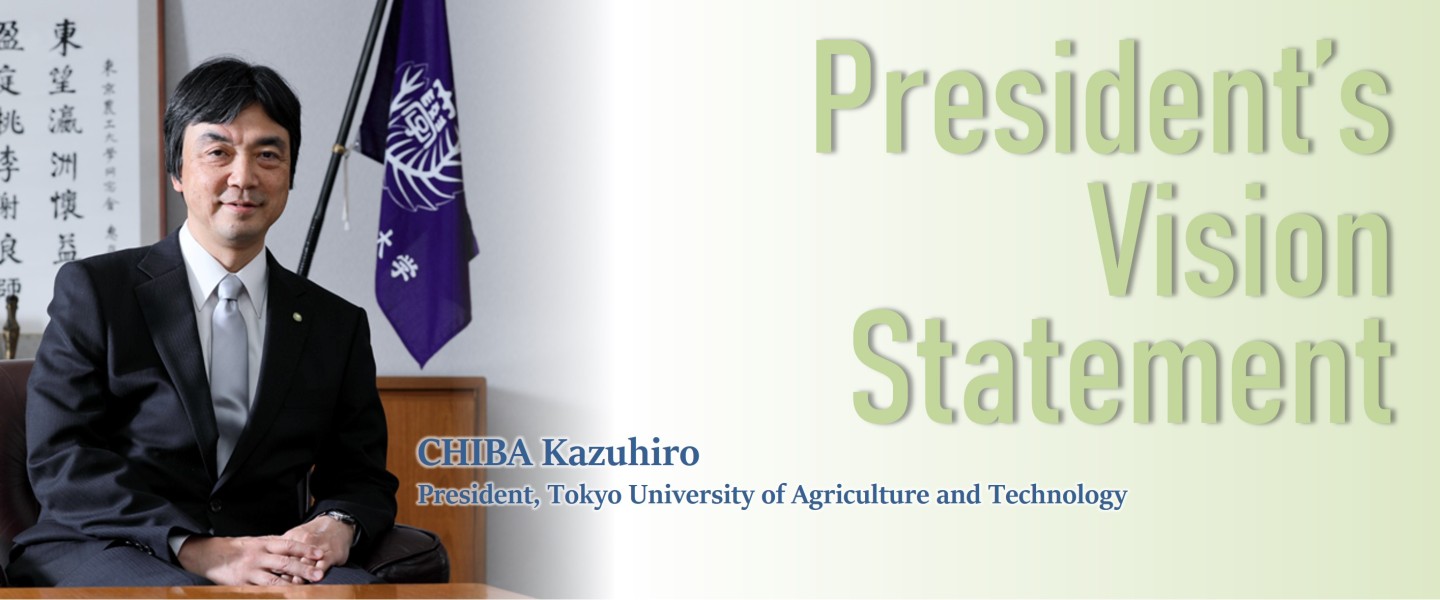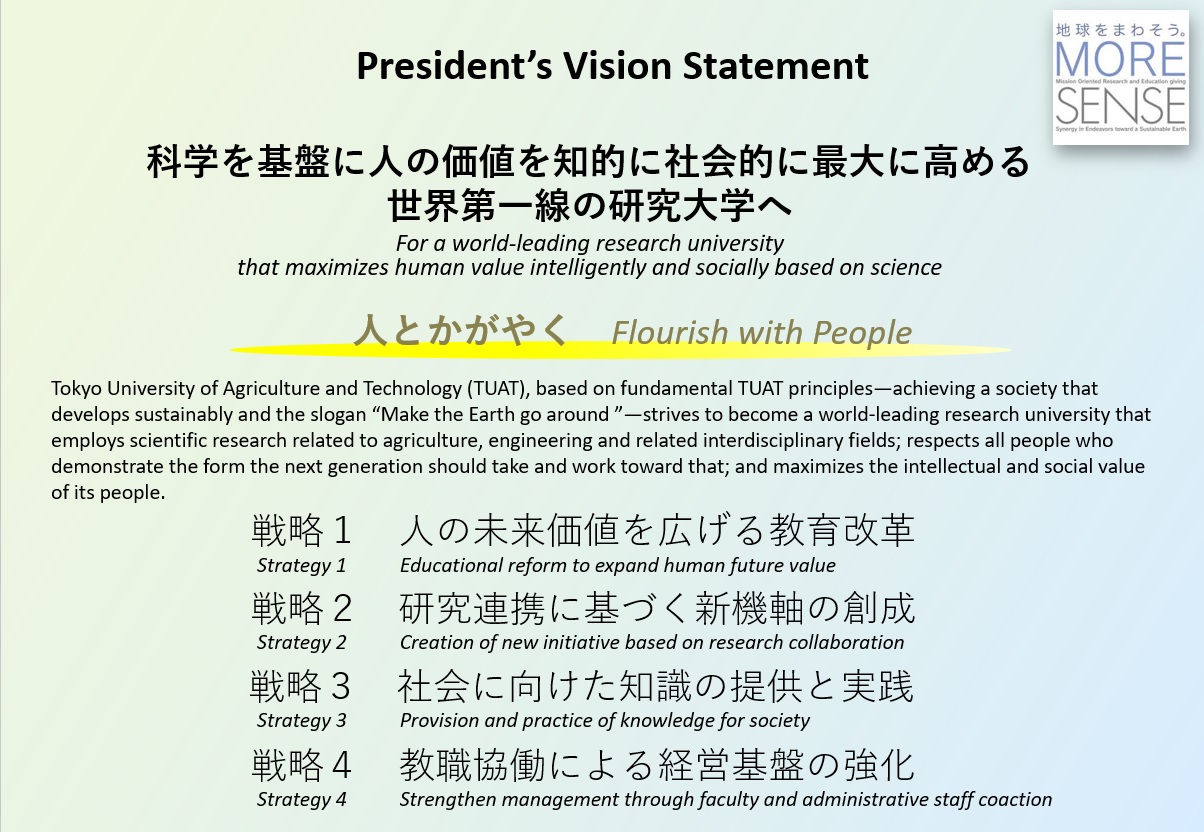 Strategy 1 Educational reforms to expand human future value
We will formulate flexible educational programs that match the changing times, constantly seeking to expand the breadth and depth of those studies based on TUAT's fundamental principle of increasing human future value. Our goals are to provide a university education based on scientific research that shares knowledge focused on the public interest, transparency and the interests of society, along with an international orientation and a sense of ethics. Our goals also include, through higher education, to yield high-caliber talent whose assessments are focused on the importance of people and who are capable of trusting, accepting and self-control, and who are also enthusiastic and have the ability to persevere. Developed on a university education system established around degree programs, we will promote internationalization, collaborations with multiple universities and other organizations, and an education that utilizes information technology.
In our graduate school courses, we help students develop high-level cognitive and creative skills through scientific research, and promote training that support them to become leaders with broad perspectives in the knowledge society of the future. It is essential to increase both the quality and quantity of areas―in other words, various occupational fields in society in which students who complete graduate school can play roles, and pave the way for them to become sophisticated academic researchers and technicians, as well as leaders of international society who consistently produce and disseminate advanced research results.
We also strive to expand and improve the quality of our educational and research environment to achieve that. And through reforms to our graduate school educational programs and methods—always bearing society's requirements in mind—we promote training that provides students with the broad perspectives needed to carry out advanced research and take on the challenges of putting it into practice in the real world. In our undergraduate courses, we strive to develop the creativity of students as well, expanding their intellectual curiosity about nature and society.
Our goal is to provide an educational system that enables students to play roles in the worlds of science, technology and business. To that end, we will continually refine our educational methods with regard to lectures, labs and workshops to build the foundations for logical thinking and stimulate creativity;to develop the basic skills to produce new thoughts and value, respect the individuality of others, and encourage all students to demonstrate their own originality.
Strategy 2 Creation of new initiatives based on research collaboration
We promote the creation of outstanding new knowledge through the performance of a wide range of research, from basic research related to the agricultural, engineering and interdisciplinary fields that sustain the mainstays of human society to mission-oriented research, including applied research directly linked to scientific technology. In all these pursuits, we maintain a strong sense of ethics and fulfill our responsibilities to society as a center disseminating scientific technology that enables humans and nature to coexist as we build a society that can develop sustainably.
The disciplines of agriculture and engineering are foundations for the relationship between humans and nature/natural phenomena, and are central to the principles for TUAT's establishment. As human activities continue to have a great impact on the Earth, sustainably securing humanity's food and health while recycling energy and resources—and reducing and repairing our environmental impact—have become vital issues. Additionally, we need to rethink the construction of social systems along with scientific research and development of advanced technology.
Based on recognition of these issues, we are prioritizing "soft-edged" leading scientific research and technology development focused on the flexibility and resilience essential to creating our future society. We are also striving to build a smarter society through links between people and nature. To that end, through proactively building multidimensional personal and organizational collaborative relationships, we will expand the highest-level research into opportunities for unfettered competition. Based on these research collaborations, we will promote the discovery of the talents of the people who represent our future and the dissemination of new knowledge to society, with the goal of creating new academic and social initiatives.
Strategy 3 Provision and practice of knowledge for society
TUAT enjoys convenient access to downtown and international airports—allowing easy access to overseas—and numerous leading companies with foundations in advanced technology are situated near the university. The surrounding area offers a treasure trove of natural resources, as well as a large cluster of experimental research organizations related to various industries. The area is also home to numerous educational and public institutions.
Our university's great strength in such an environment is the ability to build comprehensive cooperative relationships with society by creating future value based on scientific research, providing society with new knowledge, and training the talented people to put them into practice. Taking advantage of this, we identify potential needs and create markets with the knowledge and practical skills the University produces, generating the power to change society. We also strengthen management systems related to new technology, venture development information, and solving conflicts of interest.
Collaborations between universities, industry and local communities sustain and advance important social functions. That includes ensuring that businesses continue to develop themselves and gain an international orientation, promoting the employment of talented people, and creating new industries. In other words, it is essential to envision the future prospects of academic knowledge and fundamental technologies as well as the image of the people working in these fields, and to link them to enterprises to enable foresight. We must be central to those discussions and pursue initiatives based on common goals. We must also avoid limiting our ideas to providing and applying expertise and technology as a university; instead, build truly collaborative relationships with society that enable a shared sense of issues; and take action to achieve those goals. These issues include determining what is necessary to ensure that the knowledge universities disseminate broadly penetrates into society and becomes an asset, as well as what forms universities should take in the future.
Strategy 4 Strengthen management through faculty and administrative staff coaction
Working together with our faculty, administrative staff and others, we are building the solid foundations to carry out the independent university management needed to sustainably develop high-quality education and research. In other words, starting off with utilizing more university research results and boosting our value to society and contribution levels as a university; and taking on the challenges of sustainably developing high-quality education and research, we are thoroughly reinforcing our governance and management foundations.
We are putting in place systems to enable us to steadily implement such aspects as more diversified revenue streams and managing our assets to ensure the continuity of management resources, delineating responsibilities, and thoroughly adhering to ethical guidelines. We are also delineating our goals to meet the diverse numerical criteria we have set as a university. We are also systematically upgrading our ability to instruct students, contribute to society, hold entrance examinations, and carry out public relations, compliance, risk management, project planning proposals, and operation and management of related facilities.
With regard to collaborations with overseas institutions and other organizations, we continue to strengthen our management foundations for building comprehensive, lasting cooperative relations. Through this, we will create future value based on advanced research, provide society with deliverables and expertise obtained from that research, and train talented people able to take the lead in putting these developments to practical use.
Finally, by adopting personnel systems that broaden the possibilities for talented people, we will work together with faculty and administrative staff to set new goals and create opportunities for them to learn about the implementation methods needed to achieve those goals and stay active in their respective fields. We will maximize their energy and creativity by evaluating their contributions to the university and the factors that motivate them based on diverse perspectives.