BASE - A Graduate School at TUAT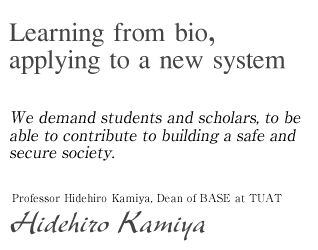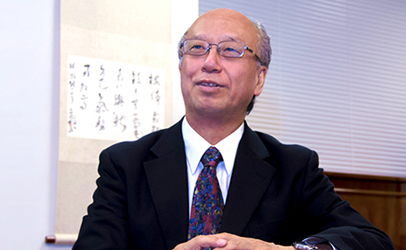 大学院生物システム応用科学府は、1995年(平成7年)に農学と工学の分野が融合して、新しい研究領域を切り開くことを目標に設立された大学院です。その名称を英語では、Graduate School of Bio-Applications and Systems Engineeringと表記することから、学内では頭文字をとってBASEと称しています。2010年(平成22年)には、早稲田大学との共同大学院である共同先進健康科学専攻が設置されました。さらに、2015年(平成27年)には、設置時の生物システム応用科学専攻を発展させて生物機能システム科学専攻(博士前期課程・博士後期課程)と実践科学リーディング大学院を実施する専攻として食料エネルギーシステム科学専攻(5年一貫制博士課程)を設置し、3専攻体制になりました。
BASE設置後、21世紀に入り10数年が経過しましたが、この短期間に地球規模での自然環境、経済・社会などあらゆる分野で大きな変化が起こっています。日本や大学もその影響を大きく受け、いままで考えられなかったパラダイムシフトが発生し、多様な課題に広い視野で対応できる新たな人材育成が求められています。様々な分野での発生している困難を乗り越え、安全・安心な社会を構築するために、環境、エネルギー、食料、健康など様々な科学技術分野でいままでにない新たらしい叡智が求められています。
本大学院は、設立の理念である「生物に学び、新しいシステムを創る」を目標に、安全・安心な社会の構築に貢献する意欲ある人材を求めています。農学と工学に、生命科学を加えた新しい融合領域において、国際的にも活躍する教授陣を集め、施設を整え、知を創出し、発信できる環境をつくり、充実した研究と教育を行っています。また、国際的発信力を高めるため、上智大学、国際基督教大学との連携も強化しています。本大学院は、学部生、社会人、留学生に広く門戸を空け、様々な年齢層、国籍の大学院生が在籍しています。
教授陣の教育・研究指導に加え、研究室内外の大学院生や連携する大学や様々な実社会の方々と切磋琢磨することで、困難な時代に対応でき、様々な分野で活躍できる人材として、本大学院から世界に飛翔いただきたいと思います。
Message from the Dean (Translation)
Graduate School of Bio-Applications and Systems Engineering, Tokyo University of Agriculture and Technology had been established in 1995 with the fused of agriculture and engineering fields. This graduate school was established with the goal to open up a new research area. The BASE word is the acronym of the Graduate School of Bio-Applications and Systems Engineering. In 2010, a joint from graduate school of Waseda University was established as another major (Cooperative Major in Advance Health Science) in BASE. In 2015, the department of Biological Systems Applied Sciences was developed into the department of Bio-Functions and Systems Science (master course and doctor course), and the department of Food and Energy Systems Science was newly established as the practical science leading department (5-year doctor course). Currently, our graduate school has three departments.
After 10 years in the 21st century of BASE establishment, there were various and large changes on global scale in all field such as natural environment, economic, and social. During that time, unexpected paradigm shift has occurred, which make Japan and universities received the increase of its impact. A new human resource development is needed to respond in a wide field of point of view and variety of new challenges. New wisdoms in environment, energy, food, health and various science and technology fields are needed, in order to build a safe and secure society and also overcoming the difficulties that occurred in various fields.
"Learning from bio, applying to a new system" is a philosophy founded with the goal that looking for motivated human resources to contribute in the creation of a safe and secure society. We have carried out extensive research and education in new fusion regions between agriculture, life sciences and engineering to create knowledge and make the outgoing possible environment, in order to build a faculty that actively involved in global industries. In order to enhance the international outbound capabilities, we also have strengthened our cooperation with Sophia University and International Christian University. In this graduate school, we opened the possibilities to students as undergraduate, graduate and working students with variety age groups and nationality.
This graduate school aims to create human resources that can be actively involved in various fields globally, by cooperating with other universities, real society and have friendly rivalry with the laboratory inside and outside BASE, in addition to education and research guidance of faculty.
Former Dean
堤 正臣 TSUTSUMI, Masaomi
(Became Vice President of TUAT in 2013)
岡崎 正規 OKAZAKI, Masanori
(Became Professor of Environmental Science, at Ishikawa Prefectural University)
小畑 秀文 KOBATAKE, Hidefumi
(Became President of TUAT in 2005, and in 2009 (2nd term), then President of the Institute of National Colleges of Technology)
宮田 清蔵 MIYATA, Seizo (1995-)
(Became President of TUAT in 2001, then a Senior Program Manager at NEDO)